St. Augustine, Florida

ON YOUR SMARTPHONE

Discover the oldest European settlement in the United States:

Discover fascinating facts about St. Augustine and learn its history;
Preview over 50 top-rated attractions and choose what to see first;
Listen to short audio stories about the city's most important landmarks;
Explore the map of the town, find nearby attractions, and get directions to them;
Scroll through the list of prescreened restaurants to choose what matches your tastes;
Browse the list of things to do and find exciting local experiences;
Book one of the recommended guided tours;
Discover hidden gems and Instagram-worthy spots;
Visit local museums or go on an exciting boat tour.

Learn more
Welcome!
St. Augustine Guide is a free, easy-to-use smartphone application that replaces outdated printed pocket guides. It offers downloadable maps, provides valuable travel tips and audio tours, and helps to find great locations and book the best activities.
While this site provides some basic information about beautiful St. Augustine and its vicinity, we encourage you to install and use the App on your smartphone or a tablet as it has much more features and content.
The App is work in progress and its content is continuously expanded and updated. We are constantly adding new locations, restaurants, activities and updating audio-stories.
App Features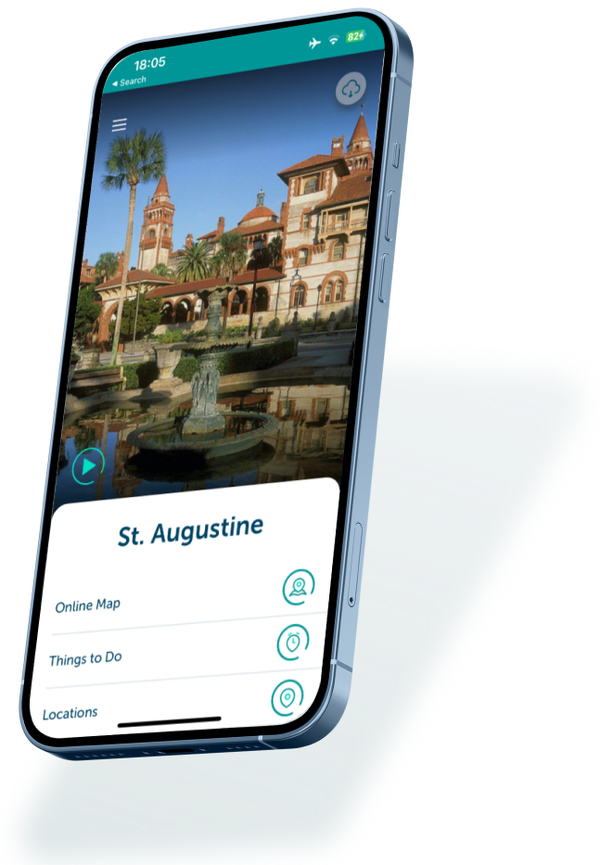 RealTigra

iOS User, USA

Great app to explore the oldest US city, it would be interesting to a tourist or a casual browser. I fell in love with St.Augustine at the first sight, and I'm glad I found this app which helped me to discover its beautiful attractions.

Jillian3773

iOS User, USA

Loved the app and the ease of use. The Welcome tour is perfect - gave me a great city overview in just 2 hrs. Also, Things-to-do and Food & Drink recommendations were helpful, especially with the distance feature and map to see where to go next.

Leo

Android User, USA

I visit St. Augustine every year and know the place pretty well, but I always check the app to find new things to do. Keep up the good work!

Serena Marlborough

iOS User, USA

The app is perfectly organized and easy to use. I recommend this app! It helped me discover and enjoy a lot more about the town than I would have seen without it… Nice to be able to explore more of beautiful St. Augustine. I enjoyed learning about its history and loved the local atmosphere. I didn't expect they have so many museums. A must city to visit! I hope to be able to revisit it someday!